---
S0315 Brass Ball Cock with Hose Connector N.P.
---
Summary
We have a stand-alone R&D department which is managed by a team of qualified engineers. This means we can help project manage the critical path, from idea conception through research and development, production and onto the delivered product.
---
Message
---
Copper pipe fittings products are currently widely used in refrigeration and air conditioning, and the refrigeration effect of air conditioning is directly related, and has become the choice of many contemporary air conditioning products. In order to better improve the cooling effect of air conditioners, you really want to choose more high-quality copper products.
Although traditional copper tubes also have many characteristics, such as good strength and conductivity, making this brass product the choice of many electrical appliances. But with the development of the new era, people have more demand for copper tube products. Under such a market background, copper tubes have become more choices for users.
Now, when the user selects a product, the appearance of the product requires a higher level. Compared to traditional copper products, copper tubes have a higher overall level of appearance and a smoother appearance.
The use of copper tube products in actual products can improve the overall level of the appearance of the product, and can also bring more attractiveness to users. Traditional copper products have a more general appearance and it is often difficult to make the appearance more attractive at the level.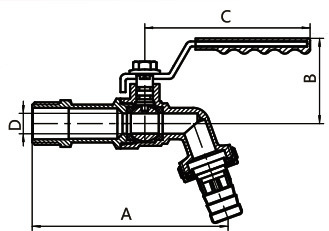 | | | | | | |
| --- | --- | --- | --- | --- | --- |
| Code | Size | A | B | C | D |
| S315-152015 | 1/2"x3/4"x1/2 | 96.5 | 42 | 81.5 | 10 |
| S315-202520 | 3/4"x1"x3/4" | 100.6 | 43.2 | 81.5 | 12 |
| S315-253225 | 1"x1.1/4"x1" | | | | |
Online Message
---
Thank you for your attention to us. If you have any needs or comments, please leave us a message.